News — Easter Egg Chocolate Brownie Recipe
Deliciously rich, gorgeously gooey and super chocolatey, this Easter Egg Chocolate Brownie recipe from Lakeland will be your new go-to family-pleasing bake!
Dressed up with little eggs, it makes the perfect pass-round Easter treat.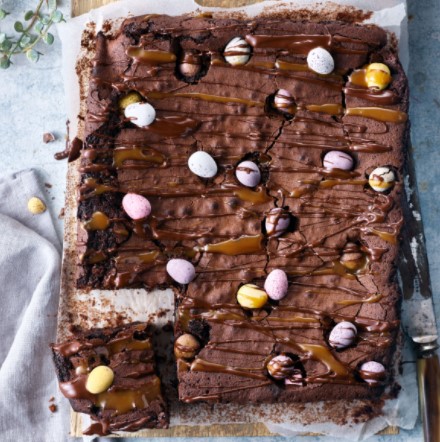 Ingredients
For the brownie
4 large eggs
450g caster sugar
200g butter
80g cocoa powder
¼ tsp vanilla extract
100g self-raising flour
100g chocolate chips
To decorate
Sugar-coated chocolate eggs
Caramel sauce
Chocolate sauce
Instructions
Preheat the oven to 180C/Gas 4. Grease and line our Brownie Tin with baking parchment or our Reusable Non-Stick Traybake Liner.
In a large bowl, beat the eggs together with a fork, then add the sugar and mix together until smooth.
Melt the butter in a small pan over a low-medium heat, then mix in the cocoa powder. Add this mixture to the eggs and sugar, along with the vanilla extract, and stir until combined.
Sift in the flour and stir in until completely smooth, then add the chocolate chips and stir again.
Pour the mixture into the prepared tin and spread it out evenly. Bake for 20-25 minutes, or until the top has begun to brown and form a crust.
Leave to cool in the tin for 5-10 minutes, then turn out onto a wire rack to cool completely.
To decorate, scatter over a handful of sugar-coated chocolate eggs and drizzle with caramel and chocolate sauce.