News — Mother's Day Treat Box
Nothing says you care like a home-made gift, and a treat box filled with delicious baked goodies is sure to bring a smile to your mum's face this Mother's Day. Cakesicles, iced biscuits, cupcakes and hot chocolate bombes are the perfect gifts for any sweet tooth. And with the help of Lakeland's easy-to-use kit and step-by-step instructions, it couldn't be easier to make your own.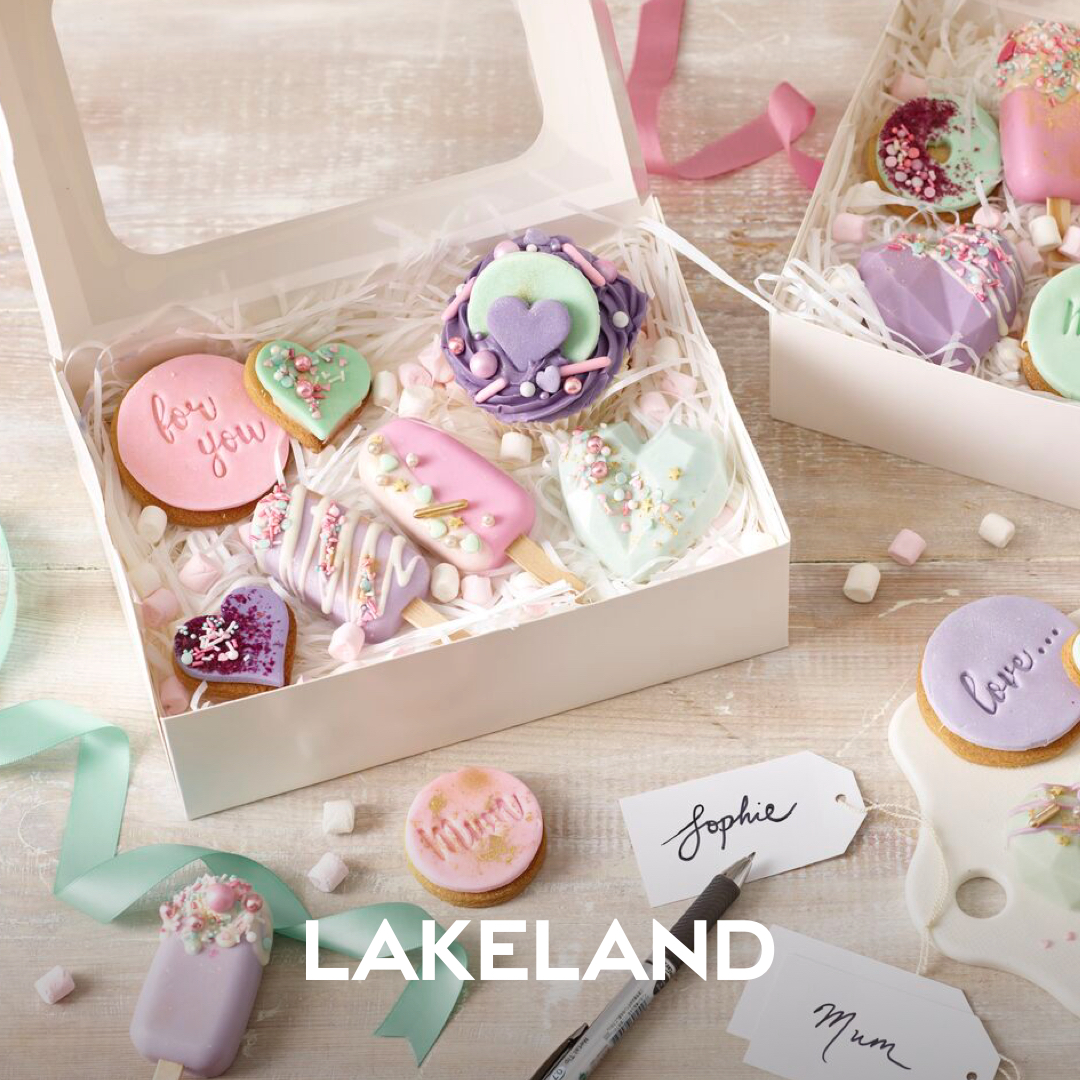 Cakesicles
To make your cakesicle filling, bake your mum's favourite sponge cake (vanilla, chocolate, carrot – anything you like) and, once it's cooled, break up into large crumbs. If you're just making the one cakesicle, a cupcake will be enough for the filling – and if you don't use it all, you can enjoy the rest yourself as a reward for a job well done.
Mix enough buttercream (again, whatever flavour you want) with the cake crumbs until they stick together, and set aside. You can make your own following Lakeland's buttercream recipe, or, for convenience, use Renshaw's Vanilla Frosting.
Brush the base and sides of the holes in Lakeland's 8 Hole Silicone Cakesicle Mould with a thick layer of melted chocolate or candy melts, scrape off any excess, insert a lolly stick into the holes, and leave to set in the freezer.
Remove the mould from the freezer and press your cake mixture into each chocolate shell, filling it to just below the top of each mould.
Melt more chocolate or candy melts and add to fill each mould, again removing any excess, then return to the freezer to set hard. Flex to remove each cakesicle, then decorate them to your heart's content.
If you've used chocolate and want to add some colour, you can paint on some patterns using Cocol Cool Hues Chocolate Colouring Kit, or drizzle on a contrasting colour of melted chocolate. You could also paint on melted chocolate and add decorative sprinkles. There are so many fab ways to decorate them.
Geometric Heart Hot Chocolate Bombes
Take a silicone pastry brush and brush an even layer of chocolate onto each of the holes in Lakeland's Geometric Heart Silicone Mould, then pop into the fridge to set. Once the chocolate has hardened, carefully turn the heart halves out of the mould.
Add your fillings to a chocolate shell; you'll need a good spoonful of your favourite hot chocolate. How much you add is up to you, but Lakeland recommend Charbonnel et walker Drinking Chocolate for a little bit of luxury.
One of the best things about chocolate bombes is when the shell melts and mini marshmallows pop to the top, so don't forget to add them!
To make your chocolate bombe, carefully dip the rim of a chocolate shell into a little melted chocolate, and pop it on top of the filled shell, then leave to set. And if the two halves of your sphere aren't joined very neatly, who has to know? Pipe around the join, and cover it with sprinkles. Ta-dah!
To decorate, follow step 6 from the cakesicle step-by-steps.
Cupcakes
Make your mum's favourite flavour cupcake – if you don't have a recipe, you can follow Lakeland's Delightful Vanilla Cupcakes Recipe on their blog. Once cooled, make your buttercream, adding the food colour of your choice. You'll find lots of great buttercream hints and tips in our Best-Ever Buttercream Icing blog.
To decorate, add some sprinkles and a heart, which you can cut out from rolled out Renshaw icing using a heart-shaped cookie cutter.
Iced Biscuits
Ingredients:
200g butter, softened
150g caster sugar
2 large egg yolks
400g plain flour
2-4 tbsp milk
Instructions
Preheat your oven to 180°C/Gas 4. Line a baking sheet with parchment and set aside.
Beat together the butter and sugar until light and fluffy, then beat in the egg yolks, sieve in the flour and mix until well combined.
Add enough milk to make a soft dough and bring together with your hands. Wrap in cling film and place in the fridge for 20 minutes to chill.
Remove the dough from the fridge and roll out to approx. 1cm thick. Use round and heart-shaped cookie cutters to cut out as many cookies as possible. Re-roll any leftover dough and stamp more cookies. Transfer to the lined baking sheet.
Place in the oven and bake for 15 minutes, or until slightly golden, then leave to cool on a wire rack.
To decorate
Roll out your chosen icing to 4-5mm thick and stamp it out using the same cutters you used for the biscuits. Brush the back of the icing with water or edible glue and place on top of the cookies, pressing on gently with your fingers.
Finally, add a personal message – or simply write Mum – using a letter stamping kit. Use PME's Fun Fonts 66-Piece Letters and Numbers Stamp Set for an authentic handwritten effect. Of course, if you have excellent calligraphy skills, you can always pipe your own message using royal icing!
Box it up
Now all that's left to do is gather your lovingly baked treats and pop them into a presentation box. You could add some sprinkles into the box, on and around your bakes, to give the box an extra-special finish. Once you've closed the lid, tie a ribbon (perhaps in your mum's favourite colour?) around the box and stick on a gift tag with a heart-felt message and watch your mum's face light up when she receives your beautiful handmade gift.