News — The Eid Edit at River Island
To celebrate the close of Ramadan and the festive days of Eid al-Fitr, River Island teamed up with Asha Mohamud to create a special edit. Check out the interview below!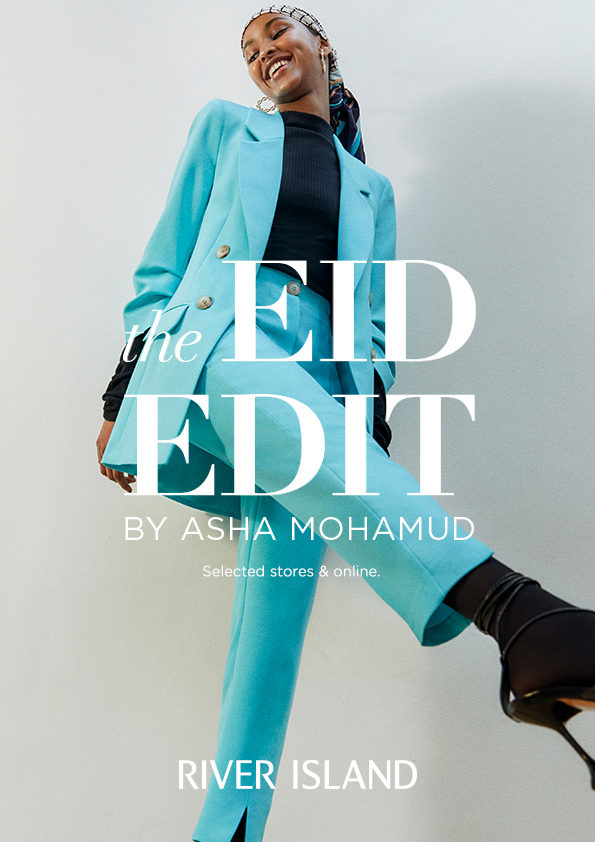 Honouring her modest style and inspired by the vibrancy of the occasion, Asha opted for long flowing maxi dresses, structured smock tops and easy layering pieces featuring pops of colour, playful details and prints.
With many calling last year's event 'CovEid', 2021 is all about getting together with family and friends and the return of treasured traditions. Lockdown rules have lifted, mosques are back open and restaurants have opened their doors. It's time to celebrate in style!
We spoke to Asha about her new edit, how she injects her personal style into modest dressing and her plans for Eid 2021.
Tell us a bit about yourself …
My name is Asha. I'm a university student, model and mental health and physical health advocate.
Tell us a little bit about your style?
My style greatly depends on my mood. I don't think I would say that I have a specific style, I just try to dress modestly and in line with my religion.
How does it feel to be doing this edit with us?
It's honestly just … I couldn't imagine this would ever happen. River Island played a massive part in my childhood especially on Eid. My parents would always go out and buy us a new pair of River Island jeans so it's just incredible to have this opportunity to be working with the team.
Tell us what the process of picking pieces for the edit was like?
Like I said, my dress sense depends greatly on my religion so I tried to incorporate modesty into a lot of the pieces. I wanted to pick outfits that genuinely went with the structure of the day. So the first outfit that I picked was the maxi dresses which I would wear to prayer in the morning. Then I went for a casual, dressed down look that I would usually wear with my family to do something adventurous and active. The final look is the suit that I would wear to go out for dinner or spend some time with my friends and family.
A lot of our audience will be familiar with modest dressing, for those who aren't, can you tell us more?
Modest dressing is very different for every person, that's one point I'd loved to get across. I think modesty depends on each person and it's different for everyone. To me it's ensuring that I'm dressed in line with my religion and that I'm covered from my ankle to my neck.
Would you say that Eid is synonymous with dressing up and fashion?
I feel like it definitely is. The most fun part of Eid is going out with your family and looking for outfits. Eid is a very cultural and traditional aspect of my life so whenever we do dress up we incorporate loads of colour that I wouldn't usually wear which goes hand in hand with fashion. Bright colours are important on Eid because it is such a happy day.
How do you bring your own personal style into those celebration looks?
I like to dress down a lot of outfits so for example the maxi dresses and suits I'd usually wear with a pair of trainers just to keep it casual. It's the same with casual looks, I'd dress them up with heels so it's all about keeping it fun and fresh.
What is the first Eid outfit you can remember and what made it special?
My most memorable Eid outfit is this massive white dress. It was like a wedding dress and I felt so beautiful and special in it. I can remember walking down the street and all the muslim mums and dads were looking at me like I was a princess and complimenting my dress. The whole day felt like it was about me and there was just a general sense of happiness. I looked around and everyone else was dressed the same, everybody was over the top, there was colour and it was just happiness. I think I fell in love with my religion then.
What are your 2021 Eid plans?
This year is all about family and spending time together. We're probably going to wake up, go to Eid prayer like normal in the morning and then go out and enjoy the sun, spend some quality time together and have a massive meal.
What do you look forward to most?
I look forward to spending time with my family and having a reward after the difficult month of fasting. It's also such a beautiful day because it's unity across all muslims. Every muslim across the world is celebrating these three special days so it's a feeling like no other. I feel so united with my community.
Are there any traditions that are unique to you?
For me and my family, ice skating is our tradition. We would always go down to a local ice rink and just ice skate for the day, have some ice cream and then go home and watch a film.
What are you excited to do this year that you couldn't do last year because of Covid?
'm really excited to go out and pray in the mosque this year. We didn't get that last year because of Covid so being in the mosque and doing the Eid prayer is what I'm really excited for. Also, sitting down in a restaurant and getting something to eat.
Tell us about your favourite piece from the edit
I really enjoyed the polka dot dress, I think it's beautiful, the shape of it is incredible and it's also very modest, versatile and you can dress it up or dress it down.
What would you wear it for?
Because it's so modest and versatile, I could wear it to go to my morning prayer but also put some heels on in the evening and go out for dinner in it.
Sum up your feelings about Eid in a couple of words 
The whole month of Ramadan is incredibly beautiful to all Muslims around the world. It's a month where we get to focus on ourselves, reflect and to get closer to our religion. I think it's beautiful that we get a special day to celebrate all the hardship we went through over the month. I'm genuinely excited to get back to a mosque and to pray to Taraweeh.